GIVEAWAY CLOSED

Best-selling author, Robert Dugoni's new novel, THE EIGHTH SISTER (Thomas&Mercer) is a pulse-pounding thriller of espionage, spy games, and treachery.
Former CIA case officer Charles Jenkins is a man at a crossroads: in his early sixties, he has a family, a new baby on the way, and a security consulting business on the brink of bankruptcy. Then his former bureau chief shows up at his house with a risky new assignment: travel undercover to Moscow and locate a Russian agent believed to be killing members of a clandestine US spy cell known as the seven sisters.
Desperate for money, Jenkins agrees to the mission and heads to the Russian capital. But when he finds the mastermind agent behind the assassinations—the so-called eighth sister—she is not who or what he was led to believe. Then again, neither is anyone else in this deadly game of cat and mouse.
Pursued by a dogged Russian intelligence officer, Jenkins executes a daring escape across the Black Sea, only to find himself abandoned by the agency he serves. With his family and freedom at risk, Jenkins is in the fight of his life—against his own country.
We got the opportunity to ask Robert some questions about his writing.
1.The spy genre is so popular. What do you attribute it to?
Well, from my perspective as an author, it's a lot of fun!  It's a game of cat and mouse with an endless number of gadgets. It's a physical game more so than a mental game, like so many mysteries. I wrote The Eighth Sister using the philosophy of a friend: Whatever my next thought was for how Jenkins got away, or got out of a situation, I couldn't use that thought. I had to come up with something else. It was frustrating at first. Then it was a blast. I could let my imagination go and think up some really clever ideas.
2. Tell us a little bit about THE EIGHTH SISTER and Charles Jenkins.
Charles Jenkins is a husband and father. His young wife is pregnant. He's started a new business providing security for an international financial company. But the company is slow paying him and he is in a real financial bind. He may go bankrupt. He may lose his home and his farm. In the midst of this turmoil, his former case officer from the CIA shows up on Jenkins's Camano Island Farm with a proposition. He needs Jenkins to go into Moscow to try to find the agent hunting and killing women who were a part of a secret sleeper cell spying on Moscow. Jenkins has experience with the Russians from his time working for the CIA in Mexico City. He knows the language. He knows the agents tendencies. Reluctant, but also desperate Jenkins goes into Moscow and soon learns nothing was as represented to him. He's running for his life from a dogged FSB agent named Victor Federov to get out of Russia. When he makes it home, however, his struggle is just beginning. He's arrested for espionage.  The story is very loosely based upon two true stories.
3. You have a woman assassin in this novel. People are still shocked by "hardcore" women, such as suicide bombers …. Is a woman assassin common (in that world)?
Why not? When you read articles on the subject, you learn that women make the best spies because they are much more patient, much less prone to be sucked into a scenario by the chance of sex, and much less reactionary. They are more cerebral and that allows them to fly under the radar.
4. You've written series with characters that appear in all the novels. What makes a good central character in your genre?
I think a good central character in any novel is someone that is real, someone who the reader can empathize with. If you can get the reader to walk in the protagonist's shoes both in their professional life and in the character's personal life, then you have a much better chance that the reader will stay with the story from start to finish. Most of us have never been and never will be a spy, but many of us may have traveled to Russia. Many have a family and have been in a financial pinch, work didn't go as planned, and we're worried about our families. We've done desperate things we've regretted. I think the key is to make the protagonist human, imperfect, but also just a little better than everyone else at what they do. They're smart or intuitive, or physically capable.
5. When do you know it's time to end a series, and move on?
I hope I never find out!
As long as there are new adventures for Tracy and readers want to read her stories, I'll keep writing them.  There are so many stories out there. I can't see the ending.
6. TV?  Hope so, there aren't enough Deep States and Berlin Stations …. Good luck and thank you!
I've sold some things in LA but nothing has yet to progress very far. From the very lackluster films nominated for the Academy Awards this year, I think Hollywood needs to realize there are some great stories out there that are opting to find other outlets that don't spend years in the making, films and series shown primarily on television.  Game of Thrones immediately jumps to mind. So do series like Bosch and The Marvelous Mrs. Maisel. So I'm hopeful my novels will, eventually find a home on the screen, but I'm not too worried about it. I just keep on writing.

Purchase Links
About Robert Dugoni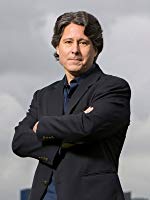 Robert Dugoni is the critically acclaimed New York Times, Wall Street Journal, and Amazon bestselling author of the Tracy Crosswhite Series, which has sold more than 4 million books worldwide. He is also the author of the bestselling David Sloane Series; the stand-alone novels The 7th Canon, Damage Control, and The Extraordinary Life of Sam Hell, for which he won an AudioFile Earphones Award for the narration; and the nonfiction exposé The Cyanide Canary, a Washington Post Best Book of the Year. He is the recipient of the Nancy Pearl Award for Fiction and the Friends of Mystery Spotted Owl Award for best novel set in the Pacific Northwest. He is a two-time finalist for the International Thriller Award, the Harper Lee Prize for Legal Fiction, the Silver Falchion Award for mystery, and the Mystery Writers of America Edgar Award. His books are sold in more than twenty-five countries and have been translated into more than two dozen languages.
Connect with Robert
Thanks to TLC Book Tours, we have one copy to giveaway. Just tell us your favorite spy story or television show. Mine is currently BERLIN STATION on EPIX. The 4th season began Sunday. We'll announce a winner soon. Good luck.
GIVEAWAY: USA only please.