For anyone who goes to the library or has a library card, Phaedra Patrick's novel, THE LIBRARY OF LOST AND FOUND (ParkRow) is for you.
Librarian Martha Storm has always found it easier to connect with books than people—though not for lack of trying. She keeps careful lists of how to help others in her superhero-themed notebook. And yet, sometimes it feels like she's invisible.
All of that changes when a book of fairy tales arrives on her doorstep. Inside, Martha finds a dedication written to her by her best friend—her grandmother Zelda—who died under mysterious circumstances years earlier. When Martha discovers a clue within the book that her grandmother may still be alive, she becomes determined to discover the truth. As she delves deeper into Zelda's past, she unwittingly reveals a family secret that will change her life forever.
Filled with Phaedra Patrick's signature charm and vivid characters, THE LIBRARY OF LOST AND FOUND is a heartwarming and poignant tale of how one woman must take control of her destiny to write her own happy ending.
Perfect to read with a cuppa and some delicious biscotti.

Purchase Links
About Phaedra Patrick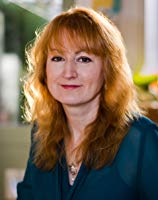 Phaedra Patrick studied art and marketing and has worked as a stained glass artist, film festival organizer and communications manager. She is a prize winning short story writer and now writes full time.
She lives in the UK with her husband and son. The Curious Charms of Arthur Pepper is her debut novel.
Connect with Phaedra
Thanks to TLC Book Tours we have one copy to giveaway. Just tell us your relationship with the library. I love going to the library. My book club meets there monthly. We'll choose a winner soon. Good luck.
GIVEAWAY: USA only please