GOLDEN CHILD by Claire Adams is a deeply affecting debut novel set in Trinidad. It follows the lives of a family as they navigate impossible choices about scarcity, loyalty, love and brutality.
GOLDEN CHILD (SJPHogarth) is a book that will break your heart, but you will find yourself in awe of what family does to protect its own. It's also a novel that will surprise you by highlighting the fact that despite the differences we have, we all share so much and are alike.
Rural Trinidad: a brick house on stilts surrounded by bush; a family, quietly surviving, just trying to live a decent life. Clyde, the father, works long, exhausting shifts at the petroleum plant in southern Trinidad; Joy, his wife, looks after the home. Their two sons, thirteen years old, wake early every morning to travel to the capital, Port of Spain, for school. They are twins but nothing alike: Peter is widely believed to be a genius, destined for greatness, while Paul has always been considered a bit odd.
"He likes to look at the moon and imagine space. He imagines it to be very silent, very cool. You would definitely need a sweater."
When Paul goes walking in the bush one afternoon and doesn't come home, Clyde is forced to go looking for him, this child who has caused him endless trouble already, and who he has never really understood. And as the hours turn to days, and Clyde begins to understand Paul's fate, his world shatters—leaving him faced with a decision no parent should ever have to make.
Like the Trinidadian landscape itself, GOLDEN CHILD is both beautiful and unsettling; a resoundingly human story of aspiration, betrayal, and love.
We got to opportunity to ask Claire Adam some questions.
It must be an exciting time for you – a debut novelist getting so much buzz. A SJP book club selection and comparisons to Nobel prized winning writer, VS Naipaul. What's it all like?
It's all been wonderful, though very BUSY! I'm not complaining though!
Explain to those of us unfamiliar, what Trinidad Tobago is like? The urban makeup is less than 10-percent, mostly rural.
Trinidad and Tobago are two little islands in the Caribbean. We're the ones furthest south in the archipelago, not far from the coast of Venezuela. We're English-speaking (once a British colony, now independent), although of course we have our own local slang. The population is ethnically diverse: there are people of African descent, Indian descent (as in Indian from India), Chinese, Syrian, Lebanese, European, Amerindian, and more, as well as every combination of the above. Trinidad & Tobago is quite a rich nation, as we have good quantities of crude oil and natural gas. Yet, somehow, despite all the money that the oil industry brings in, the roads are potholed, the electricity and water supplies are patchy, and the crime statistics are pretty sobering.
Tell us what it was like growing up on an island nation.
Actually, I feel very fortunate to have grown up in Trinidad. I spent most of my time outside, playing in the garden, or exploring the neighbourhood. The tropical landscape is very beautiful – there are flowers that bloom all year round, an abundance of fruit trees, brightly coloured birds, marvellous sunrises and sunsets, day after day. And people are very sociable: every day of the week, there's a party or a get-together, or a trip to the beach, or some other outdoor event that involves eating, drinking and making merry.
All this makes it sound idyllic and wonderful – and for me personally, it was – and yet no place, and no society, is ever as simple as it looks. Islands are (literally) isolated from the rest of the world: there can also be a sense of entrapment on an island, a feeling of having nowhere to escape to. Sometimes, getting "out", getting away from the island, is what people strive for.
I've read that child abductions and people going missing is common. How did that affect your novel?
I tried hard not to sensationalise this aspect of the novel. The victims of these crimes never felt like imaginary, faraway people to me – they always felt like real people, and so it felt important not to trivialise or exploit the real suffering that people had experienced.
The other thing I had to keep in mind was a sort of balance between which audience I was writing for: on one hand, there was the Caribbean audience, who would already have a certain idea about how these kidnappings worked, and the chances of escape, and how negotiations might be carried out – or not; on the other hand, there was the, say, American audience, who would know none of these things. As I wrote, I tried to keep both audiences in mind.
Clyde, the father in your story, like most parents wants a better life for his children. But he's up against so many obstacles and the family relationships are so complex. How did you keep everything straight?
Everything was pretty clear in my head – I hope it's clear enough for the reader, too.
Regarding the complex family relationships – I think that this kind of complexity comes about naturally in certain societies or certain ways of living. A tightly-knit community (which might consist primarily of family, or it might not) has the capacity to be wonderful and sociable, to provide an invaluable support network – but it can also become claustrophobic and restrictive. And it creates vulnerabilities too, because what if you can't trust people in your tightly-knit community? All this is wonderfully fertile ground for fiction!
Your novel, GOLDEN CHILD is really such a heartbreaking story, but written with such empathy. Was writing the book an emotional experience?
It was, in places, yes. But it was also a privilege. The characters felt real to me all the way through, and I felt that my job was to tell their story as simply and clearly as I could.
What do you hope readers take away from your novel?
This question is often asked, and, if I'm honest, I don't quite understand the intention behind it. Authors try very hard to erase any traces of themselves from a novel: I certainly tried very hard to erase any traces of myself from GOLDEN CHILD. And the reason is that reading is essentially a private experience: it's something that happens between a reader and a text. The reader doesn't want the author popping up all over the place telling them what to think – readers are quite capable of thinking for themselves!
But, seeing as this question has come up before, I do have an answer that I feel comfortable giving, and it's that I hope that readers will come away with some measure of respect for these characters. These characters, in a sense, are humble people – they're not rich, or well educated; they live in a little house on a little island – they're people who are often overlooked, or who are sometimes even completely invisible. But I hope readers come away with a sense that these are, in some way, real people, and that their lives deserve a certain measure of respect.
What are you writing now? If you can, give us a hint.
I've got another novel started, and the only thing I'm saying about it so far is that it's not set in the Caribbean, and it's going to be completely different to GOLDEN CHILD.
Purchase Links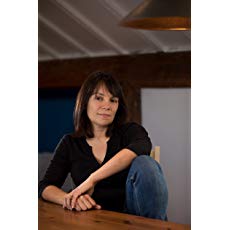 Claire Adam was born and raised in Port of Spain, Trinidad and Tobago. She lives with her husband and two children in London, England. GOLDEN CHILD is her first novel.
twitter: Claire_Trini
Thanks to TLC Book Tours, we have one copy of GOLDEN CHILD to giveaway. Just tell us when you know about the Caribbean. We'll announce a winner soon. Good luck.
GIVEAWAY: USA only please.