Giveaway closed
Giveaway closed
In Beth Castrodale's novel, IN THIS GROUND (GarlandPress), just as his indie-rock band was poised to make it big, Ben Dirjery traded it all in for fatherhood and the stability of a job at Bolster Hill Cemetery. Now closing in on fifty, the former guitarist finds himself divorced, while "losing it," and still haunted by the tragic death of his former band's lead singer, who is buried, literally, under Ben's feet.
Then Ben's daughter begins questioning a past he has tried to bury. If he can face her questions, he might finally get over his guilt over his bandmate's death, and bring music back into his life.
Prepare for an unexpected enjoyable read, even if you think cemeteries are creepy.
*****
My interview with Beth:
The word "cemetery" causes an immediate reaction in one's mind when mentioned. An interesting location for your novel. Why?
Cemeteries have fascinated me since I was a kid, when a friend and I would wander around a graveyard near our homes and make up stories about the lives we imagined the people buried there to have led. The idea that cemeteries contain a multitude of stories stayed with me, and a few years ago I got the idea of treating a graveyard as a stage on which different dramas—those of the living and those who have died—could play out and intersect. That's how IN THIS GROUND got started.
Also, I just love the atmosphere of cemeteries–especially the rambling, Victorian-era cemeteries like the one in my novel. They offer plenty of opportunities to wander off and discover things, to retreat from ordinary life, or to connect with others–living or dead–in nooks of relative privacy. They seem to exist on some other plane than the ordinary world and thus are open to the imagination in unexpected ways.
If anyone would like more details on why I chose a cemetery as a setting for a novel, they can check out a blog post I wrote on the subject.
What is the connection between the protagonist being a rocker then a grave digger?
For the protagonist, Ben, this connection is kind of accidental. In his youth, Ben never imagined that he would follow in his father's footsteps and become a gravedigger. Instead, he put making music at the forefront of his life and believed that, with enough hard work and persistence, he and his indie-rock band might have at least a shot at a record deal.
That all changes when Ben learns that he's going to be a father. To help support his young family, he decides to take up the job his father once held at the local cemetery, and he watches his former band go on to achieve a measure of fame.
IN THIS GROUND also seems to involve a man facing his mortality – perhaps a midlife crisis?
You are absolutely right about that. At the start of the novel, Ben is close to turning 50, by which time both his father and grandfather had died from heart attacks. So Ben is feeling both a heightened sense of mortality and deeper regrets over what he never achieved with his music. Also, he continues to be haunted by guilt over the death of his former band's lead singer, who is buried at the cemetery where Ben works.
What is a "green burial?"
A green burial aims to commit a body to the earth in the least environmentally intrusive way possible. Bodies aren't embalmed or enclosed in heavy caskets or concrete vaults, though they might be contained in a shroud or biodegradable casket. The protagonist of the novel, Ben, pushes for green burials at the cemetery where he works because he wants to make the grounds more environmentally sustainable.
What research did you do?
In addition to researching green burials, I shadowed a gravedigger for a day, which was a lot of fun. Through that experience, I learned not just about the specifics of the gravedigger's job but also about some really strange goings-on at his cemetery, especially at night. These included drug deals and voodoo rituals. It's largely thanks to these stories that so much of the drama in my fictional cemetery occurs after sundown.
I also researched the legal and practical aspects of exhumation, which becomes a source of controversy in my novel. I wondered if there might ever be a scientifically based reason for leaving a buried body alone. So I got in touch with a forensic anthropologist, who gave me some great insights about when an exhumation might not be worthwhile.
Finally, because the cemetery in the novel is popular with mushroom hunters, I did some research into mushroom foraging and the kinds of mushroom varieties that tend to appear in cemeteries.
Do you normally write from a male perspective?
The writing I did for IN THIS GROUND is the most I've ever done from a male perspective. The central character of my previous novel, MARION HATLEY, is female, and women figure prominently in my short stories and in my first novel, GOLD RIVER. Although the protagonist of IN THIS GROUND is a man, female characters play significant roles in the novel: Ben's ex-wife, his daughter, a forensic anthropologist who helps Ben during the exhumation controversy, and a mushroom forager who becomes a kind of mentor to Ben.

Purchase Links
About Beth Castrodale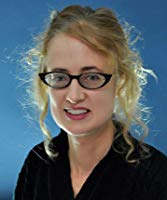 Beth Castrodale has worked as a newspaper reporter and editor. Her novels include Marion Hatley, a finalist for a Nilsen Prize for a First Novel from Southeast Missouri State University Press (published by Garland Press in 2017), and In This Ground (Garland Press, 2018). Beth's stories have appeared in such journals as Printer's Devil Review, The Writing Disorder, and the Mulberry Fork Review. Get a free copy of her novel Gold River when you sign up for her e-newsletter, at http://www.bethcastrodale.com
Thanks to TLC Book Tours, we're lucky to have one copy to giveaway. Just tell us your thoughts about cemeteries. We'll announce a winner soon. Good luck.
GIVEAWAY: USA only, please.